Utah's Phased Approach to COVID-19 Vaccination
If you've had COVID-19 in the last 90 days, you are strongly encouraged to wait 90 days before receiving the vaccine.
You cannot be given the COVID-19 vaccine if you have had any other VACCINE (Shingles, Flu, Pneumonia, Hepatitis, etc) within 2 weeks prior.
Health care workers 2nd dose Moderna appointments now available. Must have had your 1st dose at UCHD between December 23rd-28th.
Currently we can have up to 100 calls at a time, any beyond that will give the caller a busy tone. This is normally more than sufficient to meet our needs but with COVID-19 related calls from the public we have reached that limit. We are working with our carrier to increase our calling capacity as soon as possible.
Currently vaccinating age 70+ and health care workers.
Clients with Medicare- please bring your Medicare Part B card (Red, White and Blue) with you.
Appointment availability is based on vaccine dose availability. We will not schedule appointments for vaccine we do not have. Continue to monitor our website for future openings or sign up for text alerts.
Sign up for text alerts
Text UCHEALTH to 888777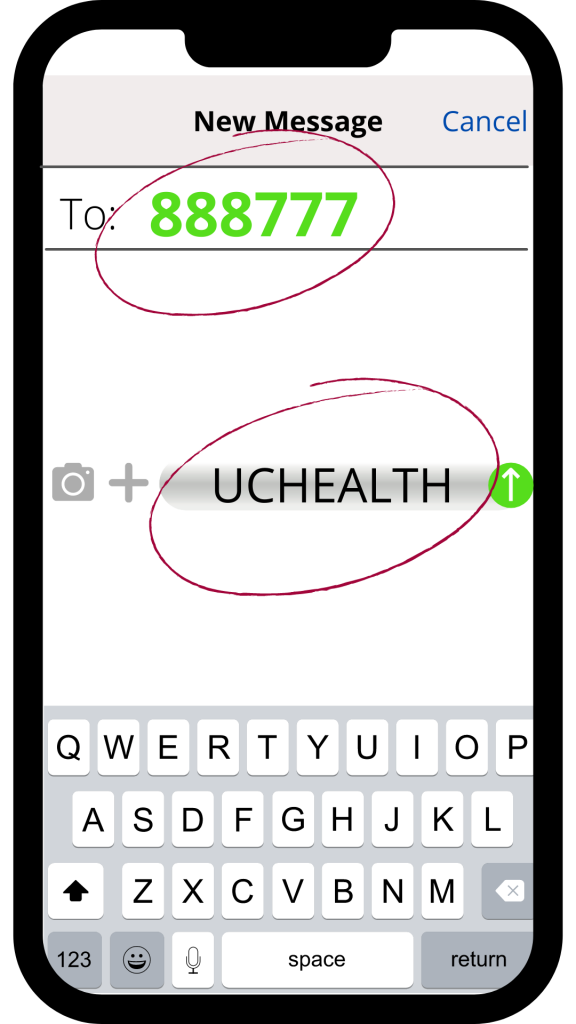 Questions? Call UCHD Covid-19 hotline at 801-851-4357. M-F 8:30am- 4:00pm
Need to cancel or reschedule? Refer back to your email confirmation for details.
*Non-hospital health care workers– MUST be 18yrs or older. If you've had COVID-19 in the last 90 days, you are strongly encouraged to wait 90 days before receiving the vaccine.
For those who have already received their first COVID-19 vaccine dose, please watch for an email with information about scheduling your second dose.
*Utah County Educator COVID-19 Vaccine Distribution Plan (K-12)
With limited supply available, COVID-19 vaccine will be distributed among educators according to the percentage of enrollment that their individual district/school type provides instruction for within their individual health district. Vaccine availability will fluctuate each week, though will be shared equitably among all educators according to the following percentages:
· Alpine (62.5 %)
· Nebo (22.5 %)
· Provo (8 %)
· Charter/Private/Parochial (7 %)
Appointments for the amount of doses available to each district/school type will be communicated and managed by individual districts. Charter/Private/Parochial educators will gain access to the available appointments that correspond to their percentage of available doses each week through a scheduling tool provided to their individual administrator/school director. Scheduling tools will be made available by Monday, end of day each week.
Appointments will correspond to the following dates, times and locations listed below. Note that individuals who have not been able to secure an appointment through their individual districts sign up tool or that provided to them from their individual administrator/director (charter/private/parochial) SHOULD NOT attend these clinics. Appointments available correspond to a specific amount of vaccine available which are secured for those with an actual appointment.
Revolving weekly clinics (8 week period of time)
Wednesday
Nebo Distinct (3:00-7:00 pm)

Summit Center
Valley View Middle
Mt. Nebo Middle

Provo District (3:00-7:00 pm)

Grandview Learning Gymnasium
Saturday
Alpine District (9:00 am-3:00 pm)

Polaris West High
Orem Junior
Lake Mountain

The Utah County Health Department is following the vaccine phased guidelines laid out by the Utah Department of Health. The most up to date information on the state's roll-out plan can be found here.
COVID-19 Vaccination Plan – Utah Department of Health
Utah County Health Department's vaccine distribution plan
The vaccine will arrive initially in limited doses, and therefore, distributed first to those most at-risk. The Utah Department of Health has developed recommendations through working with health professionals to determine which groups will receive the vaccine first. UCHD will follow their guidance.
There is no sign-up list to bypass the state's guidelines and receive the vaccine early. Following the state's phased plan of priority groups, we will alert the public of who can receive the vaccine at which time. When the time comes for you and your family, you will be able to sign-up for a vaccination appointment online.
This plan may change based on vaccine availability.
Cost of vaccine
The vaccine is available at no cost. An administration fee may be billed to your insurance. If you are uninsured, the administration fee will be covered.
How to receive the COVID-19 vaccine
The Covid-19 Vaccine will be given at our Provo office location and other offsite locations. The vaccine will NOT be available in our American Fork or Payson Clinics until further notice.
The vaccine will eventually be available through the Utah County Health Department for every Utah County resident 16 or 18 years old and older (dependent on vaccine availability).
When that time comes, individuals and families will be able to sign up for an appointment time to receive the vaccine.
COVID-19 vaccine information sheets
Updates on vaccine information will be posted on our website, as well as UCHD social media (Facebook, Twitter, Instagram).