Utah County COVID-19 Vaccinations
If you've had COVID-19 in the last 90 days, you are strongly encouraged to wait 90 days before receiving the vaccine.
You cannot be given the COVID-19 vaccine if you have had any other VACCINE (Shingles, Flu, Pneumonia, Hepatitis, etc.) within 2-weeks prior.
Now vaccinating those who are 50+ and those who are 16+ who have certain medical conditions. List below.
Individuals who are younger than 18 need to be accompanied by a parent or guardian when receiving the vaccine. Those who are younger than 18 need to receive the Pfizer brand. Typically, this vaccine is offered in our Spanish Fork location. Please keep this in mind as you make an appointment.
If you are not in a current eligible category, please be aware we can only fill these with those who are currently eligible.
We are focused on vaccinating individuals 50+ and those 16+ with qualifying medical conditions (listed below). If you have a question about current non-eligible groups, call the state COVID-19 hotline at 1-800-456-7707. Or visit coronavirus.utah.gov
Sign up for text alerts
Text UCHEALTH to 888777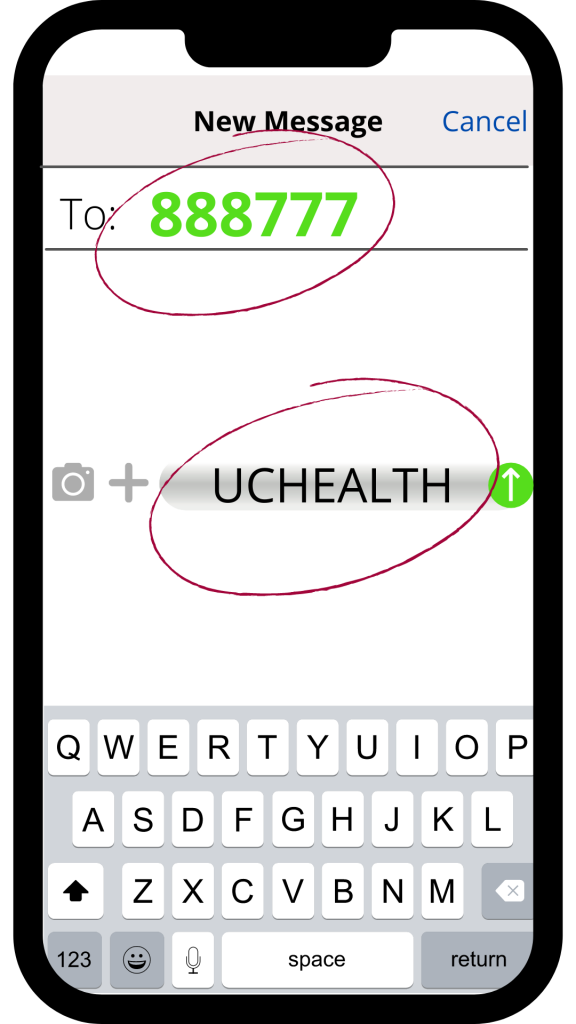 Questions? Call UCHD Covid-19 hotline at 801-851-4357. M-F 8:30am- 4:00pm
Need to cancel or reschedule? Refer back to your email confirmation for details.
*Non-hospital health care workers– MUST be 16 years or older.
For those who have already received their first COVID-19 vaccine dose and did not schedule your second dose in person, please call our COVID-19 hotline (801-851-4357 M-F 8:30am – 4:00pm)
Information on pharmacies and other health departments can be found here.
For questions concerning NOMI, please call 801-704-5911
The Utah County Health Department is following the vaccine phased guidelines laid out by the Utah Department of Health. The most up to date information on the state's roll-out plan can be found here.
Currently, those who are 50+ as well as those 16+ or older with specific medical conditions are eligible for the vaccine.
Those 16+ with any of the following medical conditions are eligible:
● Asplenia including splenectomy or a spleen dysfunction
● Body Mass Index (BMI) of 30 or higher (this is also called Class III or severe obesity)- effective 3/8
● Chronic heart disease (not hypertension) including chronic heart failure, ischaemic heart disease, and severe valve or congenital heart disease
● Chronic Kidney Disease – effective 3/8
● Chronic liver disease including chronic hepatitis B or C, alcohol-related liver disease, primary biliary cirrhosis, or primary sclerosing cholangitis or hemochromatosis
● Cancer diagnosed within the last 5 years that began in the blood, bone marrow, or cells in the immune system. This type of cancer is called hematologic cancer (such as leukemia, lymphoma, and multiple myeloma).
● Cancer diagnosed within the last 1 year that didn't begin in the blood or bone marrow. This type of cancer is called non-hematologic cancer. (excluding basal and squamous cell cancer diagnoses)
● Diabetes (Type I or Type II) – effective 3/8
● Immunocompromised state (weakened immune system) from blood, bone marrow, or organ transplant; HIV; long-term use of corticosteroids; or other medicines that weaken the immune system
● Neurologic conditions that impair respiratory function, including cerebral palsy, Down syndrome, epilepsy, motor neuron disease, multiple sclerosis, myasthenia gravis, Parkinson's disease, progressive cerebellar disease, and quadriplegia or hemiplegia
● Receiving dialysis for severe kidney disease
● Receiving immunosuppression therapy
● Sickle cell disease
● Severe chronic respiratory disease (other than asthma) including severe chronic obstructive pulmonary disease, fibrosing lung disease, bronchiectasis, or cystic fibrosis
● Solid organ transplant recipient
● Stroke and dementia (Alzheimer's, vascular, or frontotemporal)
You don't need to get a doctor's note to schedule your vaccine. We will only receive enough vaccine for those who are eligible with these conditions right now. Please wait your turn. These individuals are at the very highest risk of hospitalization and death from COVID-19 and we need to make sure they receive the vaccine as soon as possible.
Patients who do not meet these criteria need to wait until those at highest risk have been vaccinated.

Currently vaccinating age 50+, those 16+ with qualifying medical conditions, first responders, k-12 school staff, and health care workers.
Utah County Health Department's vaccine distribution plan
The vaccine will arrive initially in limited doses, and therefore, distributed first to those most at-risk. The Utah Department of Health has developed recommendations through working with health professionals to determine which groups will receive the vaccine first. UCHD will follow their guidance.
There is no sign-up list to bypass the state's guidelines and receive the vaccine early. Following the state's phased plan of priority groups, we will alert the public of who can receive the vaccine at which time. When the time comes for you and your family, you will be able to sign-up for a vaccination appointment online.
Cost of vaccine
The vaccine is available at no cost.
How to receive the COVID-19 vaccine
The Covid-19 Vaccine is available by appointment for Utah County residents at the following locations:
Spanish Fork Vaccine Clinic- Utah County Emergency Management (old Shopko building)
NOMI Orem Vaccine Clinic (Diamond Rental building)
The vaccine will eventually be available through the Utah County Health Department for every Utah County resident 16 or 18 years old and older (dependent on vaccine availability).
When your time comes, individuals and families will be able to sign up for an appointment time to receive the vaccine.
COVID-19 vaccine information sheets
Updates on vaccine information will be posted on our website, as well as UCHD social media (Facebook, Twitter, Instagram).