Utah County COVID-19 Vaccinations
Anyone age 12 and older can get the vaccine.
Please hydrate and eat well before your appointment.
Those who are younger than 18 need to receive the Pfizer brand. Please look for events titled "12+."
Minors must be accompanied by their parent or guardian, or, if another adult accompanies them, the minor can't receive the vaccine unless the parent or guardian has either signed the COVID-19 vaccine form or gives permission over the phone.
Sign up for text alerts
Text UCHEALTH to 888777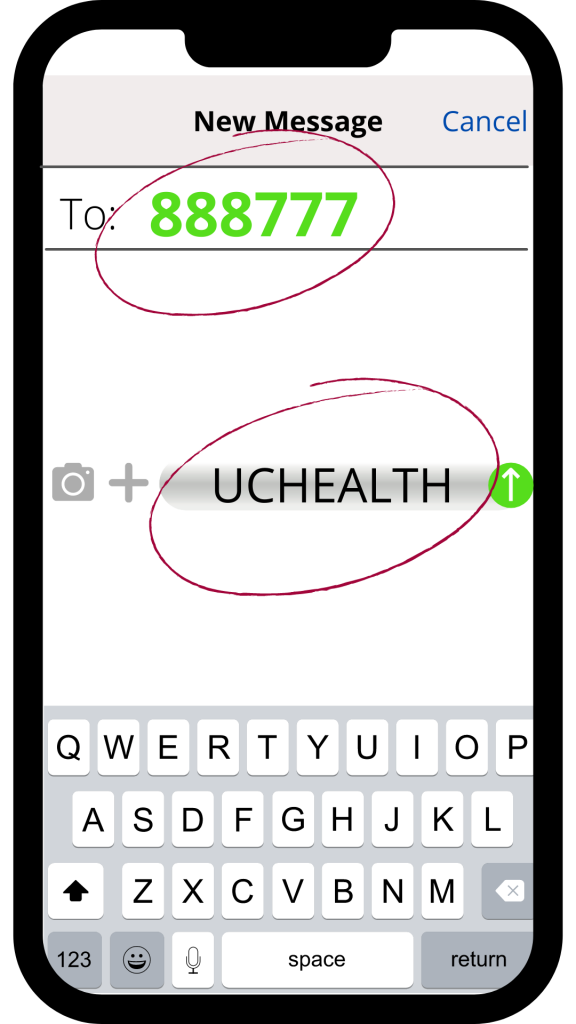 Questions? Call UCHD Covid-19 hotline at 801-851-4357. M-F 8:30am- 4:00pm
Need to cancel? Refer back to your email confirmation for details.
Need to reschedule your second dose? Call UCHD Covid-19 hotline one week before your original second dose date (801-851-4357 M-F 8:30am – 4:00pm).
For those who have already received their first COVID-19 vaccine dose from UCHD and did not schedule their second dose in person, please call UCHD Covid-19 hotline (801-851-4357 M-F 8:30am – 4:00pm).
The Utah County Health Department is following the vaccine phased guidelines laid out by the Utah Department of Health. The most up to date information on the state's roll-out plan can be found here.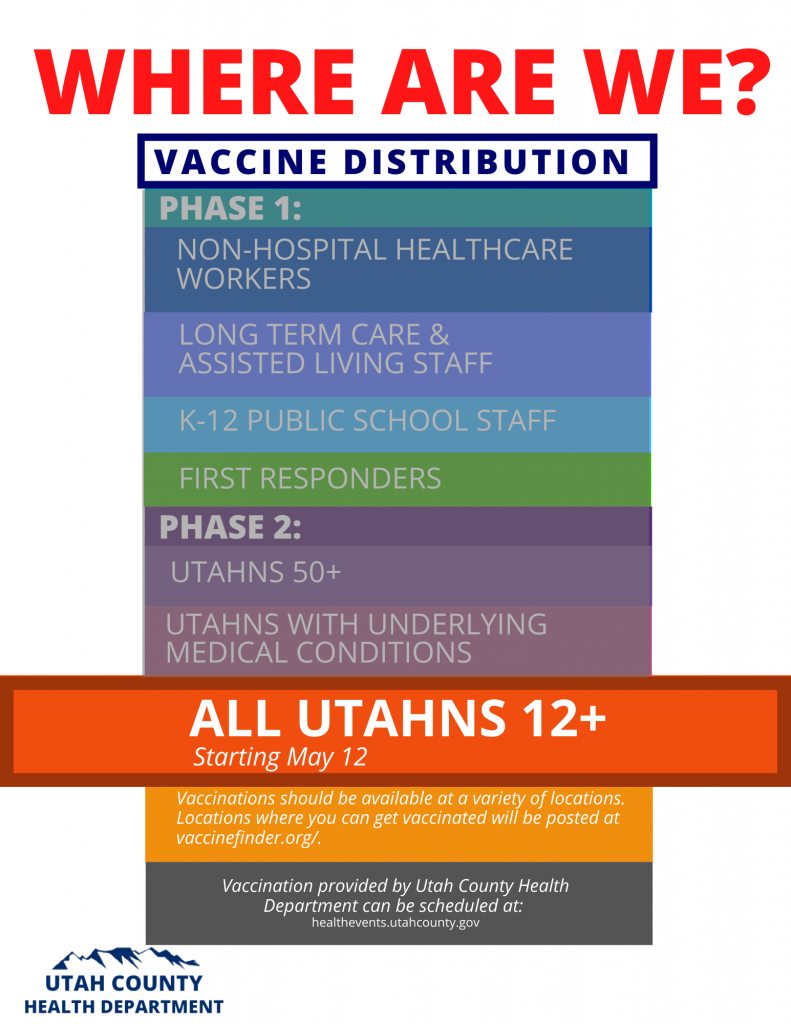 Cost of vaccine
The vaccine is available at no cost. You do not need to have health insurance in order to receive the vaccine.
Preparing for a COVID-19 vaccine
Before you come for your vaccination, please hydrate and eat well.
The CDC does not recommend taking ibuprofen, aspirin, or acetaminophen BEFORE your vaccination to try and mitigate side effects. However, if you do take these types of medications regularly for other reasons, please continue taking them prior to vaccination.
If you have questions about medications you are taking, please contact your primary care physician.
Acceptable forms of ID
When you come for your vaccine appointment, you will be asked to show ID. Acceptable forms of ID include driver license, government issued ID, birth certificate, foreign issued government ID, passport, student ID, expired passport/driver license, or utility bill.
For those who are under the age of 18, no ID is required. However, minors do need to be accompanied by an adult who must present their ID.
How to receive the COVID-19 vaccine
The Covid-19 Vaccine is available by appointment for those living in Utah at the following locations:
American Fork Vaccine Clinic- Utah County Emergency Management
Provo Vaccine Clinic (former Provo High School)
After vaccination
You are considered fully vaccinated 2-weeks after your second dose of the Pfizer or Moderna vaccine or 2-weeks after you receive the Johnson & Johnson vaccine. You should still wear a mask and take precautions to prevent the spread of COVID-19 until more people are able to get vaccinated.
Those who are vaccinated have different guidelines on quarantine and isolation after exposure to someone who has COVID-19. Please click here for more information.
COVID-19 vaccine information sheets
COVID-19 vaccine forms
Updates on vaccine information will be posted on our website, as well as UCHD social media (Facebook, Twitter, Instagram).