Outrage Youth Group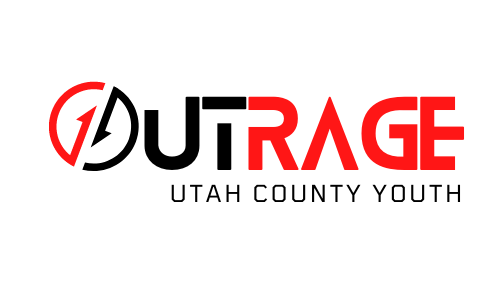 WHO WE ARE
OUTRAGE, Utah County's youth-led (ages 12-18) advocacy and prevention group.
MISSION
The OUTRAGE mission is to empower youth to fight back against tobacco, nicotine, alcohol, marijuana, and prescription drug misuse by using effective prevention strategies and advocacy.
WHAT WE DO
OUTRAGE seeks to empower peers and communities by effectively communicating about health issues. Youth advocates understand the importance of teamwork and inclusivity.
YOUTH ACTIVITIES
Fall Retreat: A day to improve relationships, communication, and advocacy skills with the youth group
Opinion Dinner: Educating Senators, Representatives, City Officials, Board of Health Members, and Commissioners of Utah County about upcoming bills that impact youth
Capital Day: Spend a day at the Utah State Capitol during a legislative session
Leadership Summit: Gather with other youth across the state to learn and train about prevention and advocacy work.
MONTHLY MEETING
Meetings are a chance for youth to plan events, train, and learn more about what can be done in the community. OUTRAGE has monthly meetings on the first Tuesday of each month from 6:30-8:30 pm, with an in-person and virtual option. In-person meetings will be held at the Health and Justice Building in Provo, Utah.
JOIN US
Please fill out the following permission form:
https://forms.gle/Azoh4tug4VDMX4fh8
For more information, contact Abby Palmer and Sarah Simons: outrageyouth.uchd@gmail.com
Latest News and Activities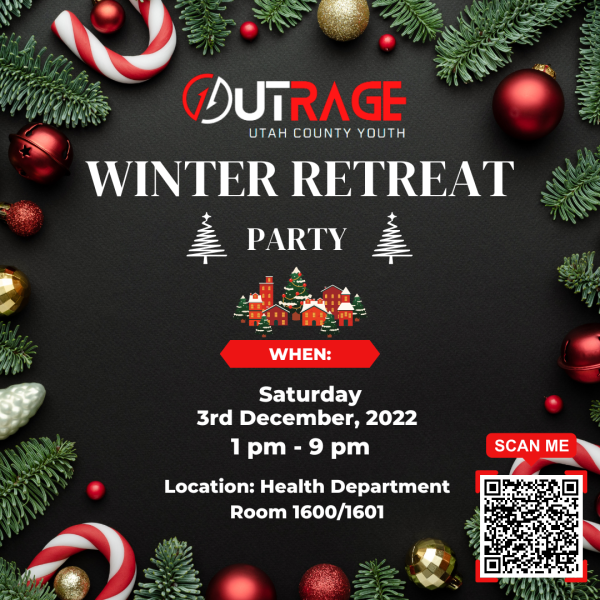 OUTRAGE Winter Retreat/Holiday Party
Saturday, December 3rd, 2022
1:00 pm to 9:00 PM
Room 1600/1601 (151 South University Avenue, Provo, Utah)
---
OUTRAGE is inviting youth ages 12-18 who want to learn more about how they can make a difference in the community. The day will be filled with food, fun, and new friendships. Come learn more about OUTRAGE and join us for a holiday party. We will be providing dinner from Mo Bettah's and snacks throughout the day. You will have the opportunity to learn more about advocacy, get prizes, make new friends, have fun, and eat delicious food!
Let us know you are planning to attend by clicking on the button below.
Registration closes on November 30th, 2022.