Outrage Youth Group

Thank you for your interest in OUTRAGE!, our community youth-led advocacy and prevention group ages 12-18 in Utah County.
Our mission is to empower youth to fight back against BIG Tobacco, nicotine, alcohol, marijuana, and prescription drug misuse by using effective prevention strategies and advocacy. We seek to empower our peers and communities by effectively communicating about health issues, giving those who struggle with addiction tools such as Way to Quit, informing individuals on how to fight back against manipulative marketing tactics targeting youth, and educating opinion leaders about health policies that promote positive change. We understand the importance of teamwork and inclusivity, so we are constantly building connections with youth and other organizations around Utah County who share our vision. We give them a chance to have their voice heard!
OUTRAGE! has 1-2 meetings per month, and currently all meetings are virtual due to COVID-19. For more information, contact Sarah Simons: outrageyouth.uchd@gmail.com
Latest News and Activities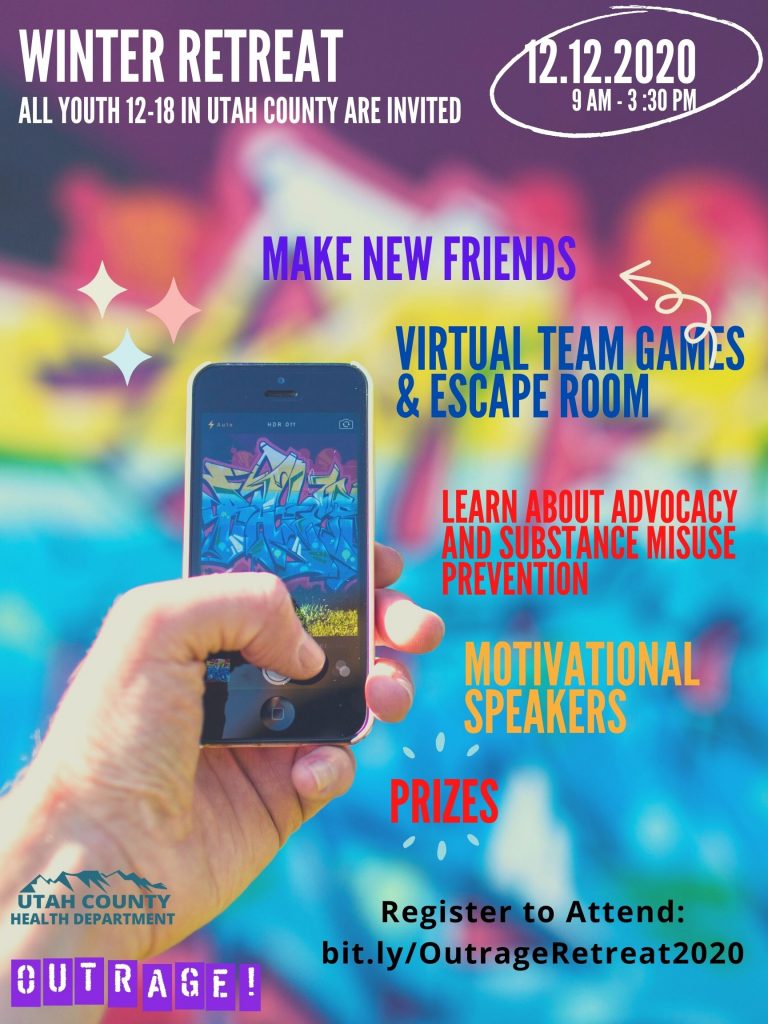 OUTRAGE! Winter Virtual Retreat
Saturday, December 12th, 2020
9 am to 3:30 pm
Link to virtual event will be sent to all that register.
Due to COVID-19 restrictions this event will be virtual. You'll get the opportunity to learn all about the work we do and start helping to make a difference from the comfort of your own home.
Listening to a local popular motivational speaker, to participating in virtual team building games, to combining your thoughts and creativity with others in hopes of winning a grand prize at the end of the day, it's a Saturday for sure you definitely don't want to miss out on. Fill out this link below by December 10, 2020 to REGISTER. Mark your calendars for a fun filled virtual Saturday!