Build a Kit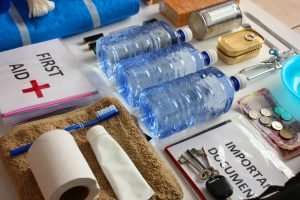 No matter who you are or where you live, a disaster can strike at any time. Whether it be snowstorms, wildfires, droughts, landslides, home fires, tornadoes, cyber-incidents, terrorist attacks, flooding, or earthquakes… here is a list of items to consider to prepare you and your family in the event of an emergency. Keep a kit at home, work, car and anywhere else you may need to grab it and go!
The basics: includes water, food, a battery- or hand-powered radio, a flashlight, batteries and a first-aid kit.
Once you have the basic kit, additional items will be needed knowing that pets, medication and other important considerations must be met during any emergency.
Many organizations provide checklists to help you get started: