Volunteer Opportunities
Medical and Non-Medical Volunteers
Help staff COVID-19 community vaccination clinics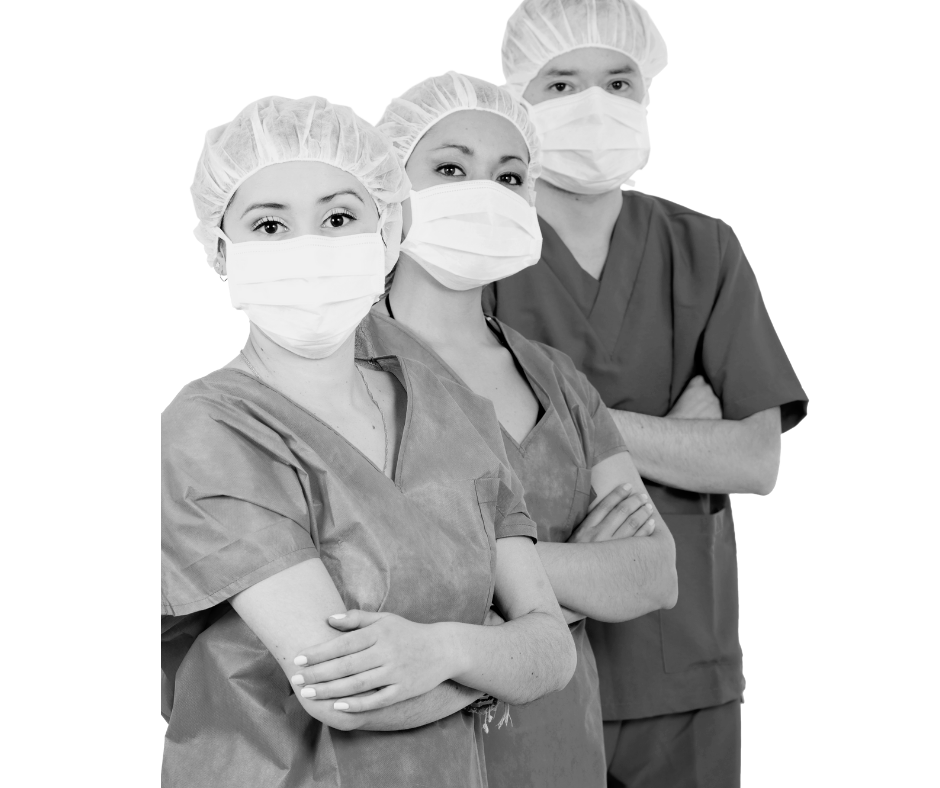 Possible Medical Volunteer Roles
Review forms for clients that need additional medical review
Assist with vaccine preparation
Administer vaccine
Monitor clients for adverse reactions
Possible Non-Medical Volunteer Roles
Greeter
Assist with volunteer check-in/check-out
Review forms
Screen forms
Traffic control
Security
Direct clients
General; clinic logistics setup & teardown
Complete Volunteer Interest Form
Medical Reserve Corps (MRC)
Volunteers with health care backgrounds are essential to emergency response. A system has been created where volunteers can be certified and practiced so that during an emergency with these credentials can step in and be used wherever needed, on the front line or in hospitals.
Have the skills? Join our Medical Reserve Corps
Instructions to complete MRC Registration:
Please access utahresponds.org and click on REGISTER NOW.
The first box will ask for your Organization. Click on Add Organization, then from the drop down list click on Medical Reserve Corps then click on Utah County Medical Reserve Corps.
Please enter all the information you can in the My Profile section.
Under Contact Method 1, From the drop down list please select mobile phone and enter your number. Then to the right you will see a link to Add Another Contact Method. Please click on that to bring up Contact Method 2 and from the drop down list choose SMS/Text and enter your mobile phone number again. This allows us to call and/or text you in the case of a drill or if we need to request actual help in an emergency.
Please complete all the information you can, including your birthdate and state you have worked in for the Background Check. We will receive an email as soon as you open a profile on Utah Responds and will submit your background check after you have completed your profile.
Please fill out the attached paper application and mail it along with a copy of the front of your driver's license to the Health Department address at the top of the application.
After we receive your paper application here and the Utah Responds profile is completed we will contact you and get your picture for badge.
Public Information & Communication Practicum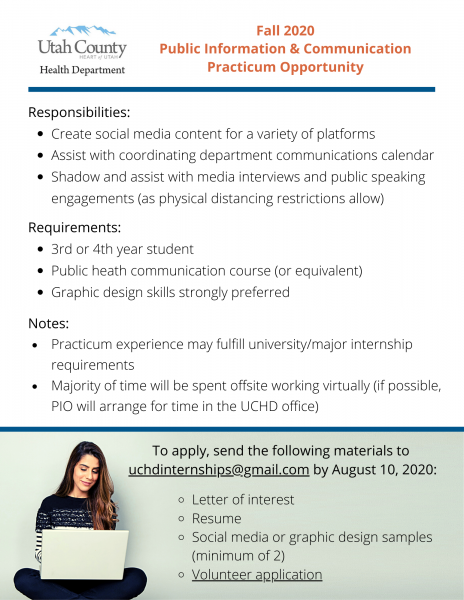 Health Promotion Internships Available
Complete the volunteer application.
Print or save your form and submit application by email to the designated person in your area of interest.
Explore opportunities to volunteer or intern with the Utah County Health Department.
Senior Volunteers
Outrage Youth Group
Communities that Care (CTC)
Communities That Care is an evidence-based process that incorporates local volunteers who use prevention science to prevent youth problem behaviors before they start. Utah County currently has five CTC Coalitions in the following locations:
American Fork
Payson/Goshen/Genola
Pleasant Grove
Provo
Saratoga Springs/Eagle Mountain
If you would like to volunteer, contact MekelJ@utahcounty.gov | 801-851-7139.
Utah Valley Drug Prevention Coalition (DPC)
The Utah Valley Drug Prevention Coalition is a county-wide coalition with a mission to prevent and reduce alcohol, marijuana, tobacco, and prescription drug misuse among youth living in Utah County.
Check out their website at utahvalleydpc.org
If you would like to volunteer, contact the coalition coordinator Michelle Swapp. MichelleA@utahcounty.gov | 801-851-7181
Family and Personal Health Divison (FPH)
Currently, we accept applications from nursing students enrolled in nursing programs most frequently. Generally, this is associated with their clinical hours.
If you are interested in applying to volunteer in the FPH Division, and you are not affiliated with an accreditied nursing program, please send an email to Lori Barber, MN, RN, Division Director, at lorib@utahcounty.gov.
Describe in one-two paragraphs your area of interest in volunteering. You will hear back from her within 72 hours. Thank you for your interest.