COVID-19 Vaccination
Anyone age 5 and older can get the vaccine.

Booster shot information below.
Please hydrate and eat well before your appointment.
Those age 5-17 must receive the Pfizer vaccine. Please check to see if the event is titled "Pfizer" before signing up minors.
Minors must be accompanied by their parent or guardian, or, if another adult accompanies them, the minor can't receive the vaccine unless the parent or guardian has either signed the COVID-19 vaccine form or gives permission over the phone.
Questions? Call UCHD COVID-19 hotline at 801-851-4357. M-F 8:30am- 4:00pm
Need to cancel? Refer back to your email confirmation for details.
Booster Shot Information:
Everyone Ages 12 and Older Can Get a Booster Shot
Individuals age 50+, or who are 12+ with a qualifying medical condition, may receive a second booster 4 months after their initial booster. Additionally, adults who received a Johnson & Johnson primary dose and a Johnson & Johnson booster dose may receive a second booster of an mRNA vaccine 4 months after initial booster.
The CDC has issued the following guidance concerning booster vaccinations:
IF YOU RECEIVED
Pfizer-BioNTech or Moderna
You should get a booster if you are:
When to get a booster:
At least 5 months after completing your primary COVID-19 vaccination series
Which booster should you get?
Teens 12-17 years old can get a Pfizer COVID-19 vaccine booster
Adults 18+ can get any of the COVID-19 vaccines authorized in the United States
---
IF YOU RECEIVED
Johnson & Johnson
You should get a booster if you are:
When to get a booster:
At least 2 months after your shot.
Which booster should you get?
Any of the COVID-19 vaccines authorized in the United States can be used for the booster dose.

If you qualify and would like a Pfizer or Moderna dose as your booster, you can schedule an appointment here.
If you qualify and would like a Johnson & Johnson dose as your booster, visit Vaccines.Gov. We recommend calling ahead to the facility you find to verify they have the shot in stock.
Guidance for immunocompromised.
Individuals who are immunocompromised have specific guidance. View this guidance here.
People are considered to be moderately or severely immunocompromised if they have:
Been receiving active cancer treatment for tumors or cancers of the blood
Received an organ transplant and are taking medicine to suppress the immune system
Received a stem cell transplant within the last 2 years or are taking medicine to suppress the immune system
Moderate or severe primary immunodeficiency (such as DiGeorge syndrome, Wiskott-Aldrich syndrome)
Advanced or untreated HIV infection
Active treatment with high-dose corticosteroids or other drugs that may suppress your immune response
People should talk to their healthcare provider about their medical condition, and whether getting an additional dose is appropriate for them.
Visit the CDC website to learn more.
Sign up for a immunocompromised dose on our scheduler, found here.
Track case counts and vaccination rates here:
Cost of Vaccine
The vaccine is available at no cost. You do not need to have health insurance in order to receive the vaccine.
Preparing for a COVID-19 Vaccine
Before you come for your vaccination, please hydrate and eat well.
The CDC does not recommend taking ibuprofen, aspirin, or acetaminophen BEFORE your vaccination to try prevent side effects. However, if you do take these types of medications regularly for other reasons, please continue taking them prior to vaccination.
If you have questions about medications you are taking, please contact your primary care physician.
Acceptable Forms of ID
When you come for your vaccine, you will be asked to show ID. Acceptable forms of ID include driver license, government issued ID, birth certificate, foreign issued government ID, passport, student ID, expired passport/driver license, or utility bill.
For those who are under the age of 18, no ID is required. However, minors need to be accompanied by an adult who must present their ID.
How to Receive the COVID-19 Vaccine
The COVID-19 vaccine is available through Utah County Health Department at the following locations:
Spanish Fork Fairgrounds (Drive-thru clinic)
American Fork UCHD Clinic (Indoor clinic)
Payson UCHD Clinic (Indoor clinic, Third Floor)
To see when these locations are open for COVID-19 vaccine appointments, please visit the scheduler.
If you are a leader of a business, school, church, or community organization and would like to hold a COVID-19 vaccination clinic, fill out our Vaccine Clinic Request form.
After Vaccination
You are considered fully vaccinated 2-weeks after your second dose of the Pfizer or Moderna vaccine or 2-weeks after you receive the Johnson & Johnson vaccine. You should still wear a mask and take precautions to prevent the spread of COVID-19 until more people are able to get vaccinated.
Those who are vaccinated have different guidelines on quarantine after exposure to someone who has COVID-19. Please click here for more information.
COVID-19 Vaccine Information Sheets
COVID-19 Vaccine Forms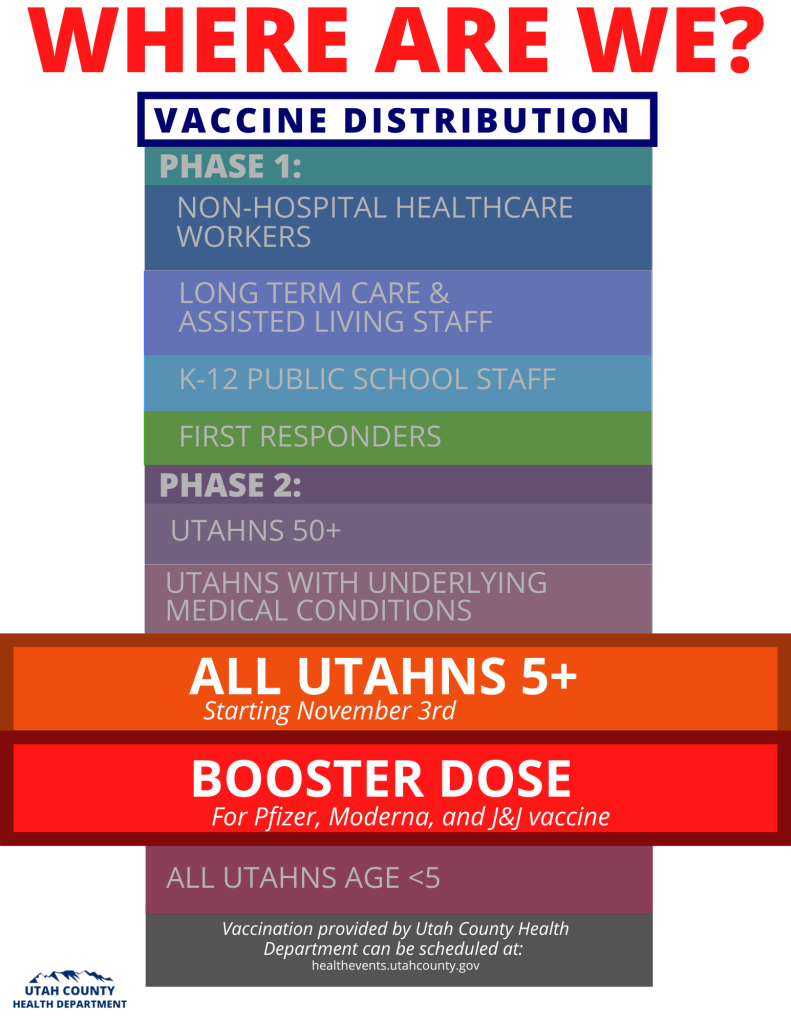 Updates on vaccine information will be posted on our website, as well as UCHD social media (Facebook, Twitter, Instagram).